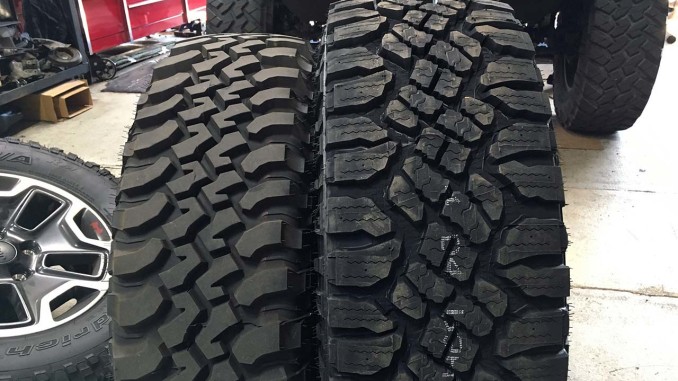 Well on the road to completion of our $3K JK Project our next step was tires.  To recap, we installed a Teraflex 2.5″ Budget Boost lift and a set of Teraflex 1.25″ wheel spacers now it's officially time to squeeze a set of 35's on the stock Rubicon wheels.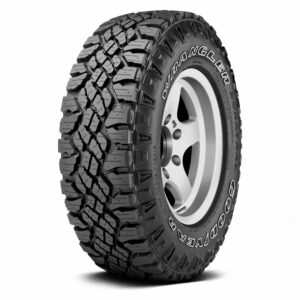 We've used the Duratrac on other jeepfan.com JK's and have really grown to love them.  Why?  The Duratrac is kind of a unique tire, fitting somewhere between an all terrain and a mud terrain tire.  The lugs are great in the mud and on the rocks but the lugs are a bit closer than most true mud tires, this puts the tire on the all terrain side.  The lug pattern keeps the tire nice an quiet (compared to other similar tires) and the sipes in the tighter lugs keep the tire stuck to the road in snow and rain.
It's really hard to knock on this tire when considered for the majority of us that drive our Jeeps daily.  Our past experience has shown the wear to be great and the ride nice too.  The D rating keeps the tire a bit softer when compared to many other tires in this size range.  Often tires in this size are E rated which can tend to be a bit too heavy duty for a Jeep Wrangler.
We wanted to go with a 35″ size on the jeepfan.com JKU RHR which equates to the 315/70R17 metric size.
Breaking the rules
This size tire is spec'd to be installed on a 8″-10″ wheel but the factory Rubicon wheel is only 7.5″.  Many many Jeepers run this combination with no issue.  The 1/4″ on each side pulls the sidewall slightly in more but it's so minimal.  Typically the only problem you may encounter is excess tire wear on the center of the tread if the tires are over inflated.  So with all this said you are still technically going against Goodyear's recommendation but what-evs.  You may have to sweet talk a shop into installing these onto your rims..many shops don't really care.
In addition to the rule breaking you will need wheel spacers to mount these to the Jeep without any rubbing.  We used a set of Teraflex 1.25″ Wheel Spacers.
So we ordered a set of these tires from OK Auto and got them mounted and balanced.
Something to know
The spare tire will not fit the stock tire carrier so we had to through it in the back along with the 5 stock tires we removed.  The Teraflex HD Tire Carrier comes next.
Final notes
The wider/larger tires grab the road, this is something you need to get used to and it's normal.  As we expected the Duratrac rides nicely and quietly, we can't wait to get them on the trail.