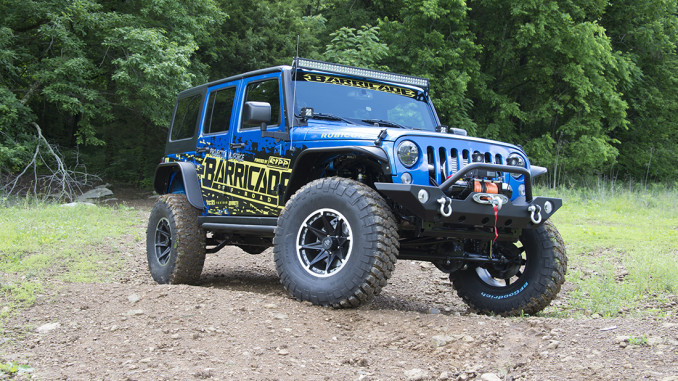 From stock to modded…ExtremeTerrain's Kevin Tetz walks us through all of Project Trail Force's Modifications.
The story…
MALVERN, Pa. (August 6, 2015) – After months of collaboration, ExtremeTerrain and Barricade Off-Road unveiled Project Trail Force, a fully customized 4-door 2015 Jeep Rubicon, at the 2015 Bantam Jeep Heritage Festival in Butler, Pa. Over the course of three carefully planned out stages, Project Trail Force transformed from a stock Jeep into an off-roading animal with the help of some of the most rugged and reliable parts on the market.
From its inception, Project Trail Force was created to be an incredible off-road vehicle that could go from exploring the trails to driving on the street. By modifying Project Trail Force with a mix of performance and durability parts, no trail is unconquerable and drivability remains intact.
Making Project Trail Force as tough and rugged as it is was a breeze thanks to a bunch of Barricade Off-
Road parts. Barricade's heavy duty armor, provides Jeeps with improved protection on the trail as well as improved functionality.
The Barricade Trail Force HD Rear Bumper not only has a built in tire carrier and D rings, but it also provides departure angles to help you out on the trail. "It enlarges the wheel opening and creates a situation where you can actually roll off of giant obstacles while you're out on the trail, like a rock or a tree stump, and get yourself out of trouble," said Kevin Tetz, ExtremeTerrain's video host.
Project Trail Force packs a lot more beneath its rugged exterior to help it on the trail. When it comes to tackling the off-road, suspension and wheels are key modifications for success and Project Trail Force has it covered. Mammoth Type 88 wheels and 37" BF Goodrich Mud Terrain Tires make quick work of any trail or obstacle and are backed up Rock Krawler's 3.5" X Factor Coil Over Long Arm System. "We wanted strong components to give us the most amount of articulation so the Rock Krawler 3.5" Long Arm Coil Over Lift System is perfect for this build," Kevin Tetz commented.
When adding larger tires to any Jeep, like the 37" BF Goodrich Tires that were put on Project Trail Force, a little extra power will make a huge difference. For Project Trail Force that power comes from an intercooled Ripp Supercharger was added to bump up the power, making it a breeze to turn the larger tires. After the install, Kevin Tetz said, "We ended up with 330 HP and 290 ft-lb TQ at the tires. What that does is give us V8 power with a V6 Jeep"
No matter how much power you add or what kind of tires you run, if the conditions are not in your favor you can still get stuck on the trail..that is unless you came prepared with a winch. Being the ultimate off-roading machine that it is, Project Trail Force has this covered with Barricade's 9,500lb Winch. Featuring synthetic rope which is less harsh on tress and wireless control, Barricade's Winch ensure that Project Trail Force never gets stuck on an adventure.
Visibility is always a concern when wheeling, especially if the lighting is less than optimal. Lighting up the trail and providing Project Trail Force with unmatched visibility is a mix of Raxiom lighting products such as Raxiom's 50" Double Row LED Light Bar. With a sleek and low profile, Raxiom's light bar avoids getting hung up on branches overhead while still providing you with all the light you need to navigate your excursion.
Fully functional and fully modified, Project Trail Force showcases some of the best aftermarket Wrangler products available and will be given away to one lucky winner. At this year's SEMA Show in Las Vegas, the keys to Project Trail Force will be handed over to its new owner and that could be you.
To win Project Trail Force simply enter here
http://www.extremeterrain.com/jeep-wrangler-project-trailforce-giveaway.html
Links to see more about Project Trail Force
ExtremeTerrain Trail Force Page
Armor Video
Wheels, Tire, Lift Video
Lighting & Accessories Video