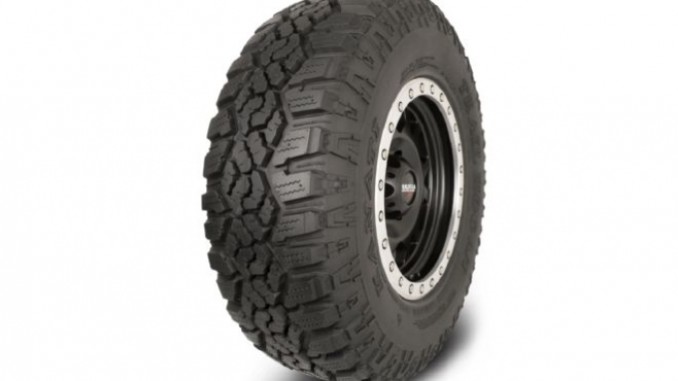 Kanati tires are a relative new comer to the off road tire market. They have 2 new models an AT and an MT. The Trail Hog A/T is similar in design to the Goodyear Dura-Trac and offers a lot of features.
Aggressive tread design and heavy siping for maximum traction and clearout Features
Two layers of jointless spiral wound overlay for added stability and a larger contact patch
Variable pitch tread design for smooth highway characteristics and reduced resonance and road noise
"Cut and chip resistant" compound means better durability in rocky terrain
Snowflake rated and pinnable for winter studs
3-ply sidewall construction and max load ratings for durability and strength
12 LT sizes for 16″ – 20″ wheels now available; 2 new sizes coming soon
The tire offers a nice fit in-between a traditional AT and an MT. The tread blocks are far enough apart to offer good traction and self cleaning and the sipes will keep the tires on the road in the rain and snow.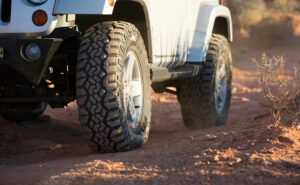 To give the Kanati Trail Hog some decent road manners, the engineers employed the use of a variable pitch tread design for smoother highway characteristics and reduced resonance from tire-drone as well as road noise. While reducing road noise is great, handling was not compromised. The Kanati Trail Hog features two layers of jointless spiral wound overlay construction for added stability as well as a larger contact patch.
For more information, please visit: www.KanatiTires.com
Kanati Trail Hog A/T Tire Review
Pros
Good "in-between" tire Tight tread and sipes make excellent snow and rain manners
Cons
Agressive for an all-terrain - increased noise
Summary
We have had the pleasure of having a jeepfan.com reader provide a review of this tire.  They indicated that wear is good so far.  The tires are installed on a 4 door wrangler JK in the LT305/70R17 size.  This size is a nice not-too-big, not-too-small 34" tire.  Still fits on the factory rims and do not affect drive quality.  Noise is minimal, quieter than a traditional mud-terrain.