Roy's Toy – 2007 PA Jeep Show Favorite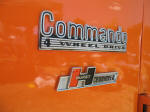 SHOW FAVORITES - We always pick a few favorites from a show.  Typically we like the strange and unusual or the extremely well done rig.  We don't have any formal criteria, it's just a feeling where we go – man, now that's cool!
We've spotted Roy's 1976 CJ-5 at other shows and it still looks beautiful every time.  The Jeep is equipped with a fiberglass tub and one piece front end.
Some quick specs…
AMC 304-Blueprinted & balanced
High performance crane cam-Roller rocker arms
Be-Cool high flow water pump
High volume oil pump
Torker intake
650 holley 4barrel
Mallory distributor & coil
Nitrous system 100 shot
T18 4-speed tranny
Model 20 transfercase
Dana 44 rear with Detroit locker
Superior Axles
Dana 30 front axle
main – page 2 – page 3 – page 4 – page 5 – page 6 – page 7
Comments