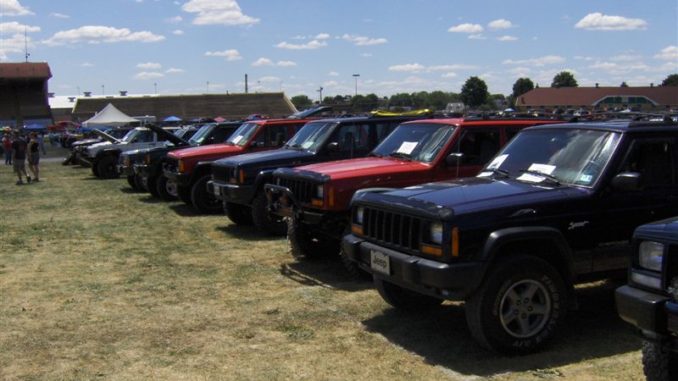 Page 3. For the past 12 years the PA Jeeps have been hosting an All Breeds Jeep show at the York County Fairgrounds in York, PA.  The date was July 21 & 22, 2007.
main – page 2 – page 3 – page 4 – page 5 – page 6 – page 7
THE PA Jeeps is a club based in York, Pennsylvania formed by a few Jeepers in 1992 and has been growing since.  The club is a local, non-profit, educational organization which strives to protect everyone's right to use public lands, not only for safe off-highway driving but also for hiking, horseback riding, camping, etc.  Visit the PA Jeeps website for more club info.
The PA Jeeps started the All Breeds Jeep show in 1995 which has grown year by year.  The show is centered around one concept – our love of the Jeep.  We are providing some detail of how the show is put together.
The show area is broken down into classes and categories based on modifications.
Overall Classes:
Jeeps from all "PEER" judged classes & categories are also eligible for the following Overall Class Trophies.
Best of Show: The BEST all around Jeep determined by your peer voters.
Best Trail Ready: The Jeep most ready to conquer off-road obstacles.
The Ultimate Beater: The Jeep that takes a beating and just keeps on going.
Largest Club Participation: The organized Club with the largest number of members with registered Jeeps within the Event will receive the Largest Club Participation Trophy.
Longest Distance Traveled: The Jeep that is driven the longest distance to participate in our Event shall be awarded the Longest Distance Traveled Trophy. *** Your Jeep MUST have been driven the entire distance, NO TRAILERS ***
Vehicle Classes:
| | |
| --- | --- |
| CLASS #1 – CJ5 | CLASS #6 – CJ6 / CJ8 / Comanchee / Commando |
| CLASS #2 – CJ7 | CLASS #7 – Full Size / Wagoneer / J-Series Trucks |
| CLASS #3 – Wrangler (YJ)Rubicon) | CLASS #8 – Wrangler (TJ-Rubicon) |
| CLASS #4 – Willys / Military | CLASS #9 – Liberty |
| CLASS #5 – Cherokees / Commander | CLASS #10 – Non-Street Legal |
Categories are based on major and minor modifications as follows.  Modifications are aftermarket installed not factory or dealer installed.
STOCK = Less than three (3) Minor Modifications with NO Major Modifications.
MODIFIED = NO more than three (3) Major Modifications with NO limit on Minor Modifications
UNLIMITED = Four or more Major Modifications
Major Modifications
Engine Modifications
Axle Modifications/Gears
Winch
Exterior(Custom Paint)
Bumpers
Suspension/Body/Shackle Lift
Fiberglass Hood/Tub/Fenders/Windshield Frame
Engine/Transmission Swap
Tire Carrier/Jamboree Rack

Minor Modifications
Wheels/Tires
Stainless Accessories (Grill – Hood Latches – Hinges etc.)
Nerf Bars / Rock Sliders
Interior (Seats – Consoles) etc.
Auxiliary Lights (Light Bar/Spot/Flood)
Fender Flares
General Show Pictures