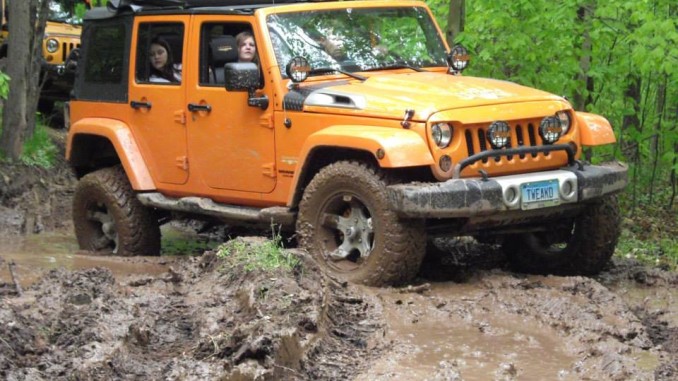 Fall is coming and that means it's time for OK Auto's Tar Hollow 4WD Expedition. OK will be heading up to Hancock, NY for a family-friendly weekend of camping and casual trail riding on over 20 miles of trails located on privately owned land in beautiful upstate New York.
OK4WD and NJJA are excited to annouce the fall run of Tar Hollow 4WD & Krawl 4 The Kids!
This event will be open to 125 vehicles and will offer a variety of freshly cut trails built to challenge drivers of all skill levels. This is a great event for novice drivers with stock or lightly modified vehicles.
$125 for vehicle and driver • $10.00 for each passenger over 12 • $5.00 for children 12 and under
What You Can Expect
A family-friendly atmosphere thats fun for the whole family
Over 20 miles of easy and technical trails
Beautiful scenery
A great time with friends, family, and other enthusiast
A wide variety of vehicle makes
The event is limited to the first 125 vehicles to register! Camping is primitive and you must take out what you bring in.  Portable toilets will be available. Open only to licensed and insured street legal 4WD vehicles. Vehicles must have front and rear recovery points. Stock vehicles are permitted, but be aware that it may be difficult to get through some trails. Bring your own recovery kit, first aid kit, fire extinguisher, tools, spare parts, etc. This is not a guided trail ride.  If you break you will need to have parts, tools and/or a way out.  If you need to get towed there may be a charge—so come prepared! There must be at least 2 vehicles in a group. There will be multiple people on the same trail so must be courteous and pull over and let others pass if you are traveling slower than them. No alcohol permitted. Please remember that this event will be held on PRIVATE PROPERTY. Under no circumstance is anyone to trespass on this property after this event. Art's Food Shack will be open Friday and Saturday so you may purchase food during the day.

Friday

3:00PM — Gates Open
3:00PM to 7:00PM — Setup Camp
8:00PM to 10:00PM — Night Trail Ride (Approx. 2 Hours)
Participants are welcome to arrive and start setting up camp as early as 3:00PM on Friday.  There will be a nighttime trail ride starting at 8:00PM and will last approximately 2 hours.  This trail ride will be fairly easy, but may be more difficult for a vehicle that is not equipped with good lighting.

Saturday

8:00AM to 10:30AM — Expedition Begins (Approx. 20 Miles)
5:00PM — Everyone Must Be Off Trails. Trails Will Be Swept.
5:00PM to 7:00PM — "Garbage Can" Chicken Dinner.  Free To All Participants.
7:00PM to ? — Bon Fire, Raffle Prizes,  Live Music, and "Show-Off" Obstacles
Saturday's trail ride will consist of approximately 20 miles of marked trails.  There will be difficult obstacles for vehicles that are heavily modified and there will also be "go around" trails for stock or lightly modified vehicles. All vehicles must exit the trails by 5:00PM.
Sunday

8:00AM to 10:30AM — Expedition Begins (Approx. 20 Miles)
4:00PM — Everyone Must Be Off Trails and Clean Up Campsite
Sunday's trail ride will have an exit approximately half way, so if you would like to exit the trail early to clean up your campsite and head home early, you may do so.  All vehicles must exit the trails by 4:00PM.Absolutely no refunds after September 27th.
Register at OK's website.