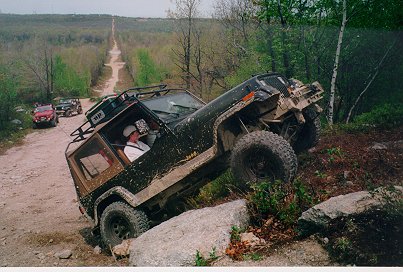 A trip from years ago at maybe the 2nd or 3rd OK Auto Rock Krawl Event. Held in 1999 at OK Auto and the now closed Paragon Adventure Park. Preserved here in time for your enjoyment. Page 4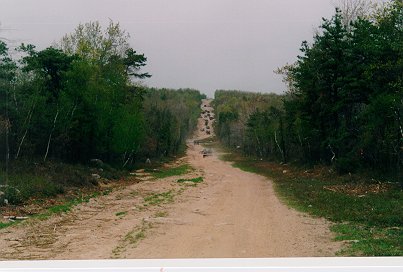 Here is a picture of the entire group. I am the little spot all the way in the front.

A little later after a short ride on the 1st pipeline we arived at Rock Face. Here is Mark trying to scale the side.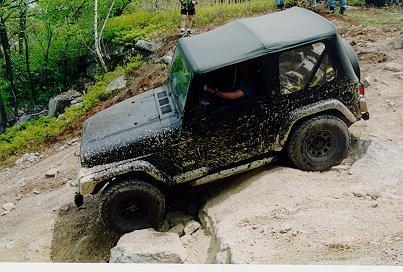 The descent down Rock Face can be tricky. Low clearance vehicles tend to bottom out over the ledge. Joe made it without a sound.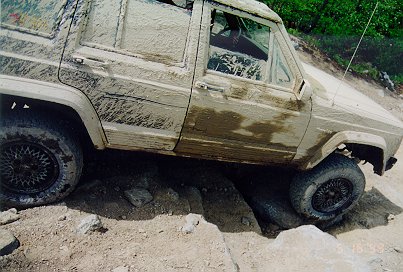 It was several hours after we were playing in the mud and Brian's Cherokee was still wet on the passenger side.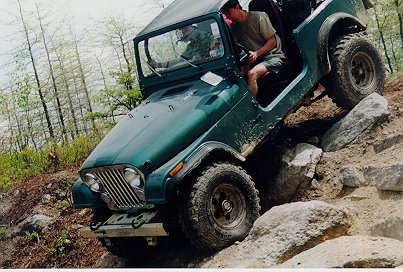 Glenn made his own way down Rock Face.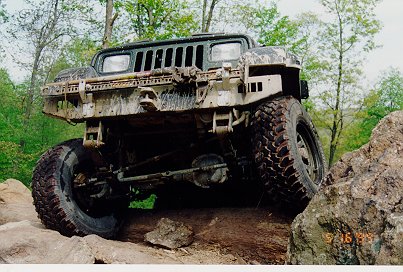 We were headed to Bumper Trail and came accross the hardcore group coming toward us. They had a CJ wrapped around a tree and they were going to be a while. So we decided to head up Icky Hill. Toward the bottom of Icky Hill is a log wall that provides a good challenge to go over. Mark did not go much further than this and after a pull he was on his way again.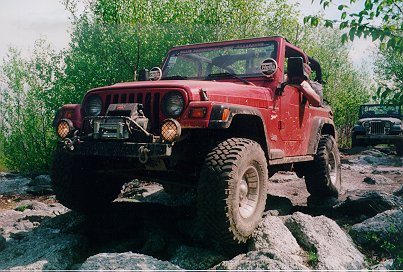 There was a Jeep rolled at the top of Icky Hill so we turned around and headed back up Turtle Trail. Here is Jared in his well equipped TJ on the rocks.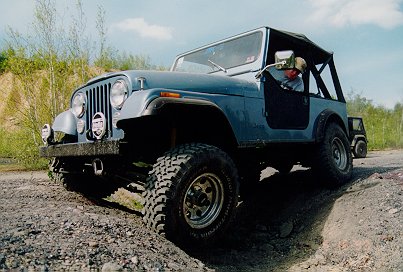 We arrived back to the Rocky Ravine area and found a washout to check out vehicle flex.


It was almost the end of the day and we were playing around in the Rubicon Lake area. The lake has a beach that can be driven on all the way around. Jon decided to see how deep the water is and the lake almost swallowed his Trooper. It took two vehicles to pull it out and it was discovered that the engine was hydro-locked. The plugs were removed and the water was blown out. Soon after the Trooper was running again and we were on our way out of the park.
I want to thank everyone in the Brown group for a good day of off-roading. Keep in touch and I'll see you on the trail.