Jeff Daniel's Jeeps held their annual all Jeep show at their facility in Harleysville PA on Sept. 30th 2006. The show is open to all Jeeps and the registration was FREE! 
Along with the Jeep show, there was entertainment for all ages including a live band, prizes, food, magician, moon-bounces, and a spectacular firework show to cap off the day.  A Jeep event held the way things should.  Not an event to miss!
The following are the classes that were featured in this years show:
1. Vintage Jeeps – Accepted vehicles – CJ-2A, CJ-3A, Jeepsters, Military versions such as the early MB's and GPW's, FC-170, CJ-6, and Willy's Pickup's.
2. CJ-5 – All
3. CJ-7 – Stock
4. CJ-7 – Modified
5. CJ-8 – All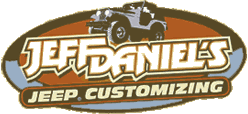 6. Wrangler YJ – (1987-1995) Stock
7. Wrangler YJ – (1987-1995) Modified
8. Wrangler TJ – (1997-Present) Stock
9. Wrangler TJ – (1997-Present) Modified
10. Wrangler LJ Unlimited – (2004-Present) All
11. XJ Cherokee – (1984-2001) All
12. ZJ/WJ Grand Cherokee – (1993-Present) All
13. KJ Liberty – All
14. Full Sized Jeeps (FSJ) – Accepted vehicles – J-10, J-20, J-200 Gladiator, Wagoneer, Grand Wagoneer, Commando, Comanche Pickup (MJ), Kaiser Truck, and Commander. 
15. Best Trail Ready Jeep: 
Description – The Jeep is designed and built for the trail; This would be the Jeep that you would want to own or make sure it is in your group with you for any off-road adventure. 
16. Restored or Maintained Original Classic Jeep: 
Description – This Jeep has either seen a major restoration or has been carefully tucked away in storage to maintain its originality.
17. Dirtiest Jeep:
Description – If you like your Jeep dirty, this is the class for you! We may need to judge the winner by how thick the mud is in inches!
18. Sportsman Special Jeep:
Description – This Jeep is built to maximize your weekend getaways. Whether you are a fisherman, hunter, mountain biker, backpacker, camper, kayak, or anything else and your Jeep is outfitted for your activity, this is your category.
19. Best Girl's Jeep:
Description – Girl Power! This Jeep is owned by, driven by, registered to, built by and/or worked on by women.
Class Definitions:
Stock – Factory dealer options allowed, and minor modifications are accepted. These will be subject to inspection at registration. No major modifications to the suspension or engine.
Modified – All Jeeps entered that do not qualify for stock will be entered into the modified class.
There will be two other prizes given out that don't have their own category, which are; Furthest Traveled and Best of Show.
Jeff Daniel's 2nd Annual Jeep Show 2006 Event Index