In the Weeds DJ-5 – 2007 PA Jeep Show Favorite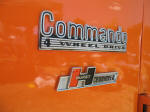 SHOW FAVORITES – We always pick a few favorites from a show.  Typically we like the strange and unusual or the extremely well done rig.  We don't have any formal criteria, it's just a feeling where we go – man, now that's cool! This featured Jeep an in the Weeds DJ-5.
This ex-mail Jeep DJ-5 was a one-of-a-kind Jeep at the show.  Yes it's a bit off the normal for what you would expect at a Jeep show but it is a Jeep and real neat.
The Jeep is equipped with…
225 Dauntless V6
Headers
3 speed
Custom dash
Racing seats
Aluminum mag wheels
Right Hand Drive
main – page 2 – page 3 – page 4 – page 5 – page 6 – page 7
Comments