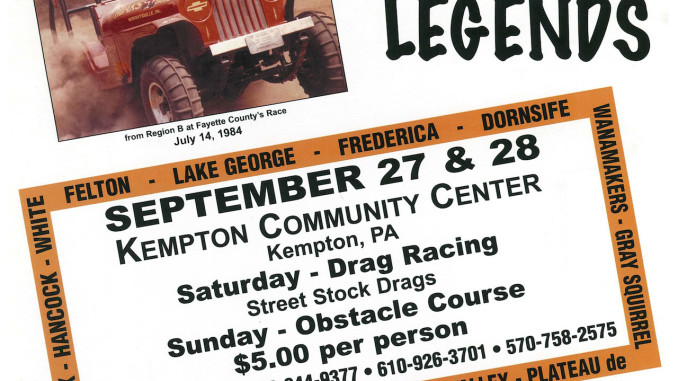 On September 27 and 28, 2014 the County Line 4×4 Rough Riders will be holding a special event at the Kempton Fairgrounds in Kempton, PA.  This event celebrates the 35 years of EC4WDA Region B racing and recreation.
T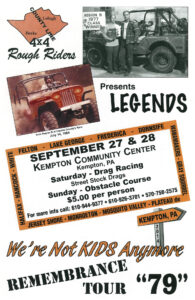 his special event remembers the legends that defined east coast off-road racing in it's earliest days.
Admission
$5 per event (drivers)
$5 points & equipment fund
$25 camping
$5 spectators
Event Schedule
Friday
Gates open at noon
Registration & Inspection 3-11pm
Saturday
Registration & Inspection 7-8am
Registration & Inspection for Street Stock 11am-1pm
Dirt Drags 9am
Street Dirt Drags 2pm
Old-Time Dirt Drags 3pm
Banquet Dinner with music & trophy presentation (byob) 6:30pm, tickets $10.00 per person – For tickets see the Registration Form for email and telephone contact information.
Sunday
Registration & Inspection 9-10am
Obstacle Course at 11am, non-sanctioned old timers run first followed by sanctioned competitors.
Call for Racers and Vehicles
The County Line 4×4's are looking for racers and vehicles from back in the day.  The fairgrounds building will serve as an exhibition area for old race vehicles (running or not) and memorabilia.
To enter please complete and return the Registration Form