Jeep Racing and Clubs
Competitive Jeep racing comes in many forms. For many many years Jeep racing has been going on, most hosted by Jeep clubs all over the US. We are featuring some that are part of the East Coast Four Wheel Drive Association and the Pacific Northwest Four Wheel Drive Association. Jeep racing is often an obscure little known form of competition. These races may consist of hill climbs, drag racing, obstacle courses, wheel-to-wheel, etc… If you have any info or links on other forms of Jeep racing and would like to share click here to send us a message.
Below are some links to write-ups on Jeep races.
OK Auto EC4WDA Region B and Line Mountain 4 Wheelers Racing Contingency Program
OK Auto has developed an off-road racing contingency program for racers who race in Region B of EC4WDA and Line Mountain events. Earn back some of what you invest.
Line Mountain 3.5 Miler – 2011
County Line 4X4 Rough Riders EC4WDA Offroad Mountain Madness – 2011



Held at the Kempton Fairgrounds in Kempton PA on June 18 & 19, 2011.


On October 17 and 18th the County Line 4X4 Rough Riders held a special race at the Kempton Community Center in Kempton, PA. UPDATED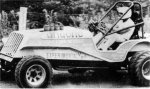 East Coast 4 Wheel Drive Association Region B Racing Memories from Days Past
We've discovered some old pictures and flyers from the earlier days of Jeep racing. Take a trip back to the 70's and 80's to see favorite Jeeps and drivers. direct link to the Photo Album EVEN MORE IMAGES ADDED
County Line 4X4 Rough Riders



EC4WDA Racing – Kempton PA
On August 17 & 18, 2008 we stopped by the Kempton Fairgrounds to take in an afternoon of Jeep drag racing.
County Line 4X4 Roughriders – Off-Road Mountain Madness 2007


Line Mountain 4 Wheelers

Cascade 4×4's of Tacoma, WA

The Line Mountain 4 Wheelers 3.5 Miler – 1998