Rewind to 1987..this totally bodacious 1987 Jeep Wrangler YJ with it's proud big hair Jeep girl owner features a windshield light bar equipped with 4 KC offroad lights.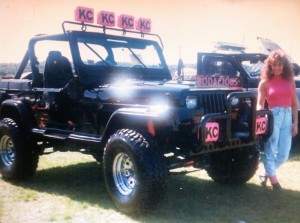 Other features include chrome outlaw wheels, 2.5-3″ lift, 32-33″ Swamper tires, front "totally tubular" bumper and a lot of pink details.
How to tell the Wrangler is a 1987 year? 1987 was the first year of the YJ and the only year for the YJ to have windshield mounted mirrors. 1988 and older always came factory equipped with door mounted mirrors.
As for the Jeep's owner..big hair, high waist, short top…hey, it was the 80′s. (you had to be there)
Today's random Jeep picture of the day is a retro picture featuring 2 CJ-5′s and a dune buggy.
The pre-1970 CJ's are similar color.  Interestingly, the far CJ is equipped with a Commando hood and grille.  A weird look but cool.  Grilles and hoods from Commandos and CJ's were completely interchangeable.
From Autoweek: A Jeep Wrangler JK with a third row of seating was recently spied at a suburban Detroit gas station.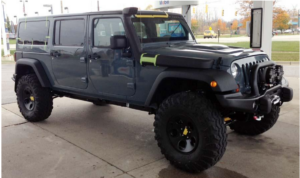 Many have commented and we personally have experienced squeaky rear seat headrests.  After some investigating we figured out the cause of this annoying issue. Read more
Posted originally on the Jeep Facebook page, these pictures are from the 2012 LA Auto Show.
PRESS RELEASE: From Chrysler.  Jeep announces the 2013 Jeep Wrangler Rubicon 10th Anniversary Edition. Legendary Jeep® Off-road Prowess Taken to New Level with Wrangler Rubicon 10th Anniversary Edition. Read more
Recently the jeepfan.com 2012 Wrangler's check engine light came on.  Knowing that it needed to be addressed we took it to our local Jeep dealer, Sands Jeep in Quakertown, PA and had them read the problem code. Read more
Anthratice Adventure Park in Shamokin, PA, a 6000 acre off road park opening opening in 2013. More info coming. Read more
From a Chrysler Press Release: To kick off the 2013 model year, Jeep Wrangler debuts a limited-edition model named after one of the most popular off-road destinations in the world – Moab, Utah – home of the annual Moab Easter Jeep Safari. The Jeep Wrangler Moab is based on the premium Sahara model and is equipped with hardware that off-roading enthusiasts desire.  Read more
From a reader, a question about swapping a higher horsepower engine in place of the 07-11 Wrangler 3.8L Engine. Read more